E-tolls' days are numbered
---
The ANC in Gauteng, with one eye on the electoral hammering it is likely to suffer by backing e-tolls, has broken with the national ANC. The Opposition to Urban Tolling Alliance (OUTA) says a growing number of Gauteng drivers are "de-tagging" themselves. The national government finds itself marooned and devoid of solutions over how to deal with the popular opposition to e-tolls. It's safe to say that e-tolls are all but dead.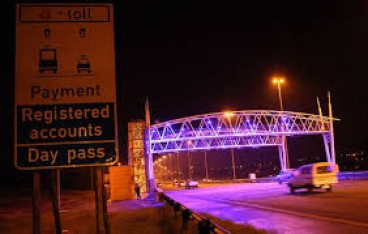 The ANC in Gauteng got the fright of its life when it saw the opposition momentarily knock it into second place during the national elections earlier this year. So long as it fastens its saddle to the e-tolling nag, it stands a good chance of getting an even bigger shock the next time around. The ANC in Gauteng held a public debate around the topic of e-tolling in recent weeks and quickly found out on which side of the debate the residents of Gauteng sit, and decided to join the people.

Only the beleaguered Transport minister Dipuo Peters continues to back her misbegotten folly. She has to - after all, it was her department that pushed this crazy scheme on the residents of Gauteng, and now she has nowhere to hide.

The main opposition parties in Gauteng - the DA and Economic Freedom Fighters - have urged the government to scrap the system. The DA says it should be replaced by a dedicated national fuel levy, or a levy specific to Gauteng. Gauteng Premier David Makhura is expected to make his views abundantly clear to the party's national leadership in the coming weeks, which will bring him into direct conflict with the national Department of Transport.

This news comes in the same week that Sanral (the SA National Roads Agency) announced an operating loss of R175.9 million for 2014, from a prior profit of R4 billion in 2013. Revenue slipped by 24% to R8.55 billion in 2014, from R11.86 billion the previous year. Something is terribly wrong with the management of our roads under Sanral.
The news for Dipuo Peters and Sanral continues to worsen. The Opposition to Urban Tolling Alliance (OUTA) this week issued a statement showing how broken the system really is. "The 46,000 tags issued to the taxi industry several months ago are still not fitted to taxis in and around Gauteng, which is another matter indicative of the system's unworkability. In addition, the dismal compliance levels at below 40%, appears to be declining, as many people who were previously tagged have indicated their decision to de-tag and halt their contributions to a seemingly defunct system," according to OUTA's chief executive, Wayne Duvenage.

With less than 40% of Gauteng drivers actually paying their tolls, and many more now deciding to "de-tag" themselves, Sanral's financial worries are just beginning. It was predicted at the outset that e-tolls would fail, some giving it two years. It may not even last this long. Those who are paying their tolls must be looking at this debate and wondering why bother if the whole system is to be replaced by a fuel levy in the near future? As OUTA points out, motorists are already deserting the ship, in the process saving themselves a few hundred rand a month.
With less than 40% of Gauteng drivers actually paying their tolls, and many more now deciding to "de-tag" themselves, Sanral's financial worries are just beginning.

This represents something of a victory for social activism. This is the first time since the 1990s that the national government is facing a humiliating defeat in the face of popular opposition. The opposition to e-tolls cut across racial and socio-economic lines. It became a bread and butter issue that impacted all residents of Gauteng. As the Free Market Foundation pointed out in a study done some years ago, successful economies subject proposed new laws to economic impact analysis. Where are the studies showing how motorists are going to pay the extra R500 or R2,000 a month they are expected to dole out to Sanral? How does this affect other parts of the economy? How many jobs are lost because individuals and companies can no longer afford to travel our roads (and the latest job stats show the only real growth in new jobs is from the public sector)?

Sanral tried to bulldoze its plans for e-tolls through under the noses of Gauteng residents, placing a score or more advertisements in newspapers inviting public comment. How much comment did it get? Less than 30 replies. It could then tick this box and move on to the implementation phase. As opponents have pointed out, no serious consideration was given to alternatives to e-tolling, or to the method of financing this outrageously costly affair.
The EFF, meanwhile, has promised to dismantle the toll gantries. The national ANC leadership has no real idea how to deal with the EFF's brand of activism. They berate the EFF for their disruption of the national assembly and their lack of decorum, while pretending to have the interests of the poor at heart. Julius Malema's red berets have stripped the ANC of this hypocrisy, and the e-tolls saga is just one example of this.

The government's craven acquiesence to China in refusing the Dalai Lama a visa to visit South Africa - for the third time - shows how spineless it has become. It begins to resemble the National Party of old: comfortable in its entitlements, bereft of new ideas and detached from the world around it. People who never held a real job are making decisions that hold to ransom a country of 55 million South Africans. Their betrothal to a failed Keynsian worldview assumes that centralised government can correct the imperfections of free markets. Back of this is an assumption that bureaucrats can, with the stroke of a pen, will jobs into reality. As the trade union Solidarity recently pointed out, there is another assumption that guides the bureaucratic mind: tax everything that moves until it stops moving, then issue a new law commanding everything to continue moving.
The gathering opposition to e-tolls is going to be a watershed for South Africa. When South Africans realise that they can defeat unpopular measures through mass disobedience, they are likely to train their sights on any number of other grievances: for example, the cost of cell phone calls, electricity or medicine. As we wrote previously: "When the regulatory over-burden becomes intolerable, people will ignore laws that inhibit their ability to survive. There are signs this is happening again. The culture of disobedience that the ANC so successfully implemented to make the country ungovernable in the apartheid years may come back to haunt it. For a start, take a look at electricity: it is reckoned that 10% of South Africa's electricity generation – equivalent to 3,600 megawatts, or one full-blown coal-fired power station – is lost to non-payment or theft. That totals about R5,3 billion a year."

As John Kane-Berman of the SA Institute for Race Relations pointed out in his book The Silent Revolution, what brought down apartheid was disobedience on a massive scale. "Ordinary people simply ignored the pass laws not because they deliberately sought to defy them but because they were seeking better economic opportunities in the towns." Disobedience, and fiscal bankruptcy, eventually sank apartheid. This is a lesson the ANC government will learn sooner or later.

Also from Acts Online:

Mass civil disobedience over e-tolls could sink the ship
SA's silent revolution