Sasfin to be hit with R30m damages claim after closing down Joburg man's business
---
Joburg-based Damon Greville is filing a R30,5 million damages claim against Sasfin after the bank shut down his business in 2012 and then attempted to foreclose on his house. The bank's attorneys are trying to thwart this by questioning his right to represent the two companies Greville once owned.

Earlier this year Greville successfully defended the bank's attempt to foreclose on his house, claiming his debt to Sasfin had already been paid and that the bank in fact owes him. The judge then referred the matter to trial after finding "substantive" evidence that the bank's legal standing was in question when Greville presented evidence of securitisation and contradictory accounting by the bank.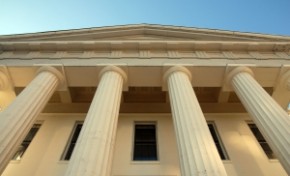 In May this year Joburg businessman Damon Greville successfully defended his house from foreclosure after he questioned the legal standing of Sasfin Bank to attach his assets. The court agreed with Greville that the bank's legal standing was in question after he presented evidence apparently showing that his loan had been securitised and now had a new owner – something the bank has denied. The judge also found discrepancies in Sasfin's accounting. Acts Online first covered the story
here
.
Greville is now suing the bank for R30,5 million in damages and lost profits after the bank shut down his 67-year old business by selling off his company assets to recover a loan that had allegedly fallen into arrears.
In papers lodged with the South Gauteng High Court earlier this month, Greville accused the bank of fraudulently attaching his property, plant and stock, for which he wants restitution at a "reasonable market value" of R7,7 million plus interest. He is also asking for lost profits of R4,4 million to be paid by the bank for destroying his business, plus a further amount of R8,3 million in lost earnings for the 24 staff who lost their jobs as a result of the bank's actions. All told, he is asking for R30,5 million.
The bank's attorneys are challenging Greville's right to represent the two companies he once owned - Advance Printing and Advance Properties. Greville says they are insisting he is represented by counsel, an expensive exercise which he cannot afford. A few weeks ago the bank's attorneys demanded he re-submit his papers on the grounds that they did not conform to the rules of the court. Greville has now corrected the technical omissions in his papers and re-submitted them before the court. His case is likely to come before the court later this year.
"I had to reformat my plea, and make application to the court to allow me to represent myself as well as my two companies – something that Sasfin had agreed to at the motion hearing in May (when the judge referred the matter to trial). They are not going to wear me down with their technical nit-picking," says Greville.
This is the latest development in a case that is being eagerly watched by securitisation experts. Greville represented himself in court in May, presenting what the judge called "substantive evidence" casting doubt on Sasfin Bank's legal standing in the matter. Greville provided evidence that his loan with the bank had been securitised, and was now apparently owned by an entity called SA Securitisation Programme (HF) Ltd.
The judge also found discrepancies in Sasfin's accounting. Greville claims that rather than he owing the bank money, the bank owes him. By his own calculations, the bank now owes him close to R655,000, but is trying to foreclose on his house claiming an outstanding debt of R333,000.
The case is being keenly watched by securitisation experts, particularly in light of the fact that Sasfin proudly boasts that it pioneered securitisation in South Africa. Securitisation is the practice of bundling loans together and on-selling them to investors as a way of freeing up capital by the banks. In doing so, banks lose legal title to the loans and in theory cannot then bring legal action against the borrower, though they have managed to side-step this by drawing a veil of secrecy over this activity. Banks typically issue a bare denial when borrowers ask whether their loans have been securitised, or they demand that borrowers provide proof of securitisation - a virtual impossibility, given the banks' secrecy surrounding this practice.
According to his papers, in 2008 Greville approached Sasfin to see if he could raise finance to purchase a property for his expanding business, Advance Printing. Initially he was told that Sasfin did not finance property purchases, but the next day he was contacted by an agent of the bank who proposed they finance the property by way of a lease for equipment through a subsidiary of the bank, Quorum Leasing. Rather than take a bond on the building, Sasfin decided it would take security for the loan on the plant and machinery belonging to Advance Printing.
Greville says he was asked to sign the first and last pages of the lease agreement and to initial the two pages of conditions in between. He replied that he could not sign until he had read through the conditions. One of the conditions read: "Lessor is entitled to cede without notice to Lessee all or any of the Lessee's rights…." Greville asked the bank's agent under what conditions they would be likely to cede this loan agreement and was told this would only happen "in the very unlikely event of a merger of Sasfin with another entity, or the takeover of Sasfin by another entity." He never signed or initialled these conditions. Then the bank decided to increase its security by taking a covering bond on the property, in addition to the security it already had over Advance Printing's plant and equipment. He says the covering bond was not authorised by him and has asked the bank to produce evidence of this.
The bank also had a bond over his residence in Mondeor, Johannesburg, which Greville says he likewise never authorised. This is the house the bank was attempting to repossess in May in the South Gauteng High Court. The bank produced a third bond over a company property in KwaZulu-Natal, which again Greville says he never authorised. He says his initials and signature appear nowhere on this bond document and he has asked the bank to produce evidence that he authorised this.
In 2011 he asked the bank to extend the terms of his loan due to a temporary cash flow squeeze. The bank refused. Greville asked Alon Berman of Sasfin whether the loan had been securitised, to which Berman apparently replied: "We are not obliged to give you that information."
Greville says he was then coerced into signing an irrevocable power of attorney in favour of Sasfin to sell the company property in Johannesburg. He agreed, provided a fair market price was achieved. Eager to bring his account with the bank up to date, Greville started marketing the property himself, and found a buyer for R1,9 million, though he rejected the offer as too low. Sasfin told Greville it wanted his account settled, and would sell the plant and property at auction. Greville saw no other way out, and decided to surrender the property. Sasfin took possession of the property and appointed a security company. When Greville arrived at the property to retrieve the last of the company records, he found the records piled on the floor and covered in oil, a stock of books dumped at a waste paper collection depot, and the building vandalised. Sasfin had the building repaired and lumped Greville and Advance Printing with the cost.
When Aucor sold the property for R1,6 million – below the price of R1,75 million agreed with the bank – Greville fired off an email to Sasfin revoking his power of attorney. Sasfin ignored this and went ahead with the sale anyway. Two weeks later the company's plant and equipment was sold for a fraction of their real market value. Despite this, Greville expected once all the proceeds of these sales were tallied up, there would be something left for him. No such luck. In fact, the bank claimed a shortfall of R348,779 and then proceeded with its attempt to repossess his house. The Certificate of Balance was made out not in the name of Sasfin, but South African Securitisation Programme (RF) Ltd. This was proof, says Greville, that his loan had been securitised and Sasfin has no legal standing in the matter. Sasfin later attempted to have this incriminating evidence withdrawn, and claims in its papers this inclusion was an error. It changed its certificate of balance three times, eventually settling on an amount of R333,000 that it says he owes the bank.
By Greville's own accounting, his debt to the bank has already been discharged, "but not apparently to the bank" as it no longer has legal title to the loan. In fact, he says after all costs have been deducted from the sale proceeds of his plant and property, the bank owes him over R655,000.
"The figures in the above calculations are all taken from Sasfin's own documents," says Greville, adding that the bank has yet to provide him with a full reconciliation of the sale of company assets.
"What most disturbs me about the bank's actions is that they forced the closure of a 67 year-old business and put 24 employees out of work – only three of which have since managed to find employment."
He says there is only one way for the bank to make this good: a cheque for R30,5 million.