One of SA's richest men subpoenaed in Brakspear trial
---
Ian Brakspear of Durban has subpeonaed one of SA's richest men, Johann Rupert, to testify at his upcoming trial in the Durban High Court in August. He says Rupert came to acquire Brakspear's Cape wine farm following what he says was a fradulent liquidation of of his business by Africa's largest law firm, ENS, according to an article in The Witness.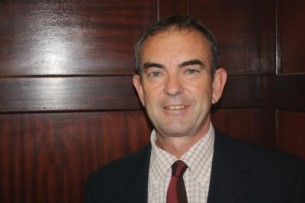 Durban businessman Ian Brakspear (left) has subpoenaed one of South Africa's richest men, Johnn Rupert, to help fight his court case. He is accusing one of South Africa's biggest law firms of fraud.
The subpoena is part of a bizarre trial expected to sit in August, which will see two senior sitting judges take the stand in a case Brakspear believes will expose widespread forgery of high court orders in Durban.
At the pinnacle of his claim Brakspear has accused Africa's largest law firm, ENS, and its insolvency director Leonard Katz of knowingly perpetrating the forgery of liquidation orders.
Global luxury business billionaire Johann Rupert became involved in the web of intrigue when he bought a 85-hectare Klein Normandie farm in the exclusive Franschhoek valley in Western Cape owned by Brakspear for R25 million during the liquidation.
Rupert has refused to take the stand, with his lawyers indicating he will challenge any subpoena.
In a letter to Brakspear on Monday, Rupert's lawyer Richard Marcus called the subpoena "an abuse of process" and that their client was not involved when the liquidation was taken out against West Dune Properties in early 2009. Marcus demanded the subpoena be withdrawn yesterday morning or face high court action.
But Brakspear — representing himself — has refused to back down and said he has subpoenaed Rupert because he was the beneficiary of a fraudulent liquidation.
"I am not concerned about the farm. We initially attempted to gain the support of Rupert and avoid him having to give evidence in the dock but he has declined, hence we needed to subpoena him."
He is contesting that an order granted in December 2008 at the Durban high court and used as the foundation of his subsequent liquidation, was a fake. He wants the order declared "null and void".
View rest of
article
.