Criminal records for traffic offenders
---
A 37 year-old apartheid law has quietly crept back in Durban, as Metro police are attempting to criminalise traffic offenders. The problem is the Pietermaritzburg court has already labelled such attempts at criminalisation "fatally defective," according to The Mercury.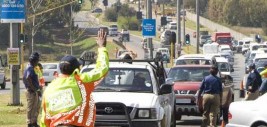 Motorists paying admission-of-guilt fines will soon incur criminal records as a provision in a 37-year-old apartheid-era law is quietly enforced.
Some may even already have criminal records because a clause in the Criminal Procedure Act of 1977 says paying a fine is the same as being convicted in court.
The provision has always been there, but is only now being implemented by some authorities.
Durban metro police have confirmed they will enforce it.
Pinetown motorist Andy Gardner was made aware of this when he went to pay a fine for speeding.
He was fined R150 for driving at 96km/h in an 80km/h zone, but did not receive the fine. However, on receiving a summons, he opted to pay the admission-of-guilt fine.
He said: "When I went to pay it, the cashier handed me a form which stated that, on payment, I would get a criminal record. I refused to sign this and decided I would rather appear in court and fight the charge."
The form Gardner was told to sign said he acknowledged being informed that, by paying the fine, he was deemed to have been "convicted and sentenced by the court".
It read: "On payment of the above-mentioned Admission of Guilt fine, such conviction will appear on your criminal record."
After investigation, Gardner's attorney told him this was in accordance with the law.
He wrote: "Unfortunately, as speeding is a criminal offence and you were issued with a criminal summons, you will get convicted if you pay the fine and this will show up on your record.
"In the past members of the public were not informed that, if they pay their fine, they will receive a record."
Metro police spokesman Eugene Msomi confirmed the department had been told by the director of public prosecutions that it intended to "activate this provision in the law book".
The police were told to "modify" their stationery to "conform with this change".
"We have not yet effected it," he said. "However, our new stationary shall reflect this change as per the director's DPP's request.
"We once again urge motorists owing traffic fines to take advantage of this period and pay their fines at the discounted incentive which is still under way."
Asked why Gardner had already been asked to sign the notice, Msomi said his fine was issued by the provincial traffic authority.
The department of transport did not respond to numerous queries by The Mercury.
Defective
However, in 2011, the Pietermaritzburg High Court found that notices such as the one Gardner was asked to sign were "fatally defective".
In a special review case in which a Baron Fynn paid a R100 admission-of-guilt fine in respect of a common assault charge, subsequently incurring a criminal record, the judge said the notice informing him of the criminal record had to conform to the Criminal Procedure Act and state the charges against him, the time and place of the offence, as well as the person against whom the offence was committed.
As Fynn's notice did not state this, the conviction and the fine were set aside.

Continue reading at source.