Zuma faces impeachment threat by MPs
---
Opposition MPs have threatened to launch impeachment proceedings against President Zuma should the Public Protectors report reveal misuse of public funds over the R230 million spent on the president's palace at Nkandla.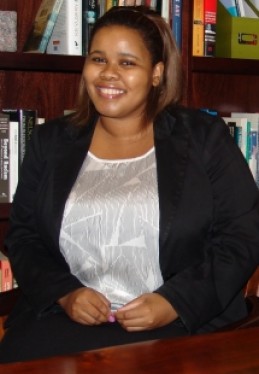 Lindiwe Mazibuko (pictured left), the parliamentary leader of South Africa's official opposition Democratic Alliance, vowed to table a motion to impeach President Jacob Zuma.
Speaking in Parliament during a debate on Zuma's state-of-the-nation address, Mazibuko told MPs she wanted to deliver a very clear message on the Nkandla "scandal'' which involved spending over R230 million of public money on his rural home.
She said, "I want to use this opportunity to send a very clear message to our honourable members, that should the honourable president be involved in any wrong doing in the public protector's report on the Nkandla scandal, I will not hesitate to table a motion to impeach him in this house.''
She added that South Africa "cannot afford another five years of President Zuma's administration."
The public protector's report on Nkandla is set to be released on March 1.
Congress of the people's leader, Mosiuoa Lekota, sang a similar tune when he took the podium, saying the country regretted that former president Thabo Mbeki was forced out of office.
"South Africa today is less happy than when President Mbeki was driven out of office,'' said Lekota, who served as a minister under Mbeki.
And Inkatha Freedom Party leader, Mangosuthu Buthelezi, said Zuma and his administration had reversed the gains made by both Mbeki and his predecessor, Nelson Mandela.
Buthelezi remarked: "Twenty years ago, words like 'rainbow nation', 'miracle transition', 'freedom', and 'reconciliation' filled the public discourse.
"Under your leadership, Mr President, those words have become 'scandal', 'protest' and 'corruption'.''

Zille challenges Zuma to debate

In an open letter to President Zuma, DA leader Helen Zille wrote: "Today, there are 1.4 million more South Africans unemployed than the day you became president. This means, Mr President, that more than one out of every three South Africans is unemployed. These facts stand in stark contrast to the statements you have made on your administration's record of job creation and economic management. I believe very firmly that we should have an opportunity to openly debate these issues together, and to answer questions from the public directly."

The ANC dismissed Zille's call for a debate, suggesting she was rising above her station and should perhaps debate other provincial premiers. Andrew Donaldson, writing in The Star, had the following to say about this: "What's more absurd here, though, is that everyone knows the real reason why there won't be any such debate, and that is because Jacob Zuma is just rubbish at it. He is not only hard of debating, if I may put it that way, he is completely lacking in all manner of it whatsoever."

So it looks like there will be no debate then.