Irish farmer jailed for forcing repo men to strip naked and join the pigs
---
An Irish farmer has been jailed for forcing two repossession men to strip naked and step into a pen with an agitated boar. They pleaded to be let go, but the farmer made them get down on their knees and recite the "Our Father" first. (We think the 12 month sentence is outrageous - Ed)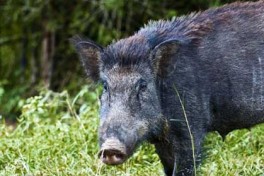 A Irish pig farmer has been sent to jail for a year after he forced two repossession men to strip naked and get into a pen with an agitated boar.
Donal Connaughton, a 55-year-old from Newtowncashel, was sentenced to 12 months in prison at Longford Circuit Court.
He was found guilty of two counts of false imprisonment, two charges of threatening to cause serious harm, one count of assault and two of criminal damage.
Connaughton was found not guilty on another charge of assault, according to a report in the Irish Independent.
The repo men - Patrick Mulvey and Justin Tighe from Dublin-based repossession company Assets Security - told the court that they feared for their lives.
They went to JAC Pigs Ltd in Co Longford in April 2010 to repossess items on behalf of GE Money.

The court heard a scuffle had taken place in the yard at the pig farm during which Mulvey and Tighe said they were assaulted.
They said in evidence that Connaughton had ordered them to strip and get into the pen with the agitated boar and they feared they were going to be violated by the animal.
The report says the animal could be heard on an audio recording made by one of the men on his phone during their ordeal.
The court heard audio of the two men pleading to be let go. They promised the farmer they would never return to the premises, but he said he wanted to 'teach them a lesson.'
The men were told to strip naked and they would be allowed walk out of the yard. When they refused Connaughton made them get down on their knees and say the 'Our Father' before they were let go, leaving their truck behind.
Connaughton's lawyer Patricia Cronin read a statement from her client in which he said he had worked hard and long hours with honesty and dedication.
The period leading up to 2010 had been particularly difficult. He said: "I was feeling the heat, trying to deal with 3,000 fat pigs."
Connaughton admitted in his sentence that he had become angry and that things had gone too far. His lawyer said he didn't attempt to justify the extent of his behaviour and he wanted to apologise.