Three giants of the bar square up in court over contingency fees case
---
Three of the country's top silks are squaring up against each other in a case that involves the Road Accident Fund, Discovery, and attorney Ronald Bobroff. As David Gleason discovers, the case runs deeper than many suppose, and involves the thorny issue of contingency fees and exclusion clauses in Discovery Health's contracts.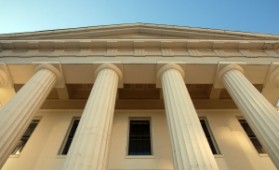 A legal struggle of titanic proportions was launched on Monday in the North Gauteng High Court. The action, which has so far gone largely unnoticed, involves leading senior counsel Wim Trengove, David Unterhalter and Mike Hellens, giants of the Bar, appearing against one another.
In this case, the argument is essentially between medical aid leviathan Discovery and the doyen of attorneys specialising in third party work, Ronald Bobroff. Discovery is standing behind members Jennifer and Matthew Graham, who take issue with Bobroff (and his son) concerning services rendered in prosecuting a claim against the Road Accident Fund (RAF) after a serious accident in which Matthew Graham nearly lost his life.
The fund settled the claim for R1,979,953 and the Bobroffs handed the Grahams 60% of that amount, R1,187,972.
This alerted Discovery, which suspected that some of its members, the Grahams included, might have been "overreached" (in this case, meaning outwitted or cheated).
The Grahams' attorneys, Edward Nathan Sonnenbergs, laid a complaint on their behalf with the Law Society of the Northern Provinces (represented by Trengove).
The Grahams say the Law Society has not done its job and has failed to investigate the Bobroffs (represented by Hellens) as requested. Essentially, the Grahams (represented by Unterhalter) want the high court to take over the functions of the law society to investigate the Bobroffs and to institute appropriate action against them if warranted, or, failing that, to use its oversight powers to force the Bobroffs and the law society "to comply with their duties".
I have looked at some of the papers (but not all, probably in excess of 3,000 pages) and I am struck by the antagonism that reverberates through them.
The Grahams (read Discovery) want the Bobroffs struck off the roll or at the very least suspended.
The Bobroffs claim Discovery hoodwinks its members by failing to make it clear to them when they join that the medical care which it finances without conditions is actually limited to genuine illness.
The Medical Schemes Act (section 30(2)) requires that a detailed summary of the rules must be provided to members when they join.
I am involved personally in the sense that I've been a Discovery member since 1996, so, when I was told by an albatross that I was covered for medical care only for illnesses, my responses were incredulity and denial. But then I got hold of the Discovery Health Scheme's rules. Annexure C, dealing with exclusions and limitations, is especially significant.
Paragraph one lists matters that "will not be paid by the scheme".
This extends to: "All costs of whatsoever nature incurred for treatment of sickness, conditions or injuries sustained by a member or a dependant and for which any other party is liable."
Read as it's written, my interpretation is that Discovery could, if it wished, decline to meet my medical expenses were I involved in a road accident because I can access cover through the Road Accident Fund.
Then, rather confusingly, in paragraph 15.6.1 of the main body of rules, Discovery makes it plain that a member is "obliged to take all steps which are necessary to timeously submit to the Road Accident Fund … a claim for compensation for the costs of any healthcare services performed", and in terms of 15.6.2 must tell Discovery it has done so.
Discovery is entitled to "recover payment of any benefit in respect of healthcare services for which the RAF has undertaken to make payment". This invokes the principle of subrogation — that an insurer that has paid out on a loss is entitled to the rights and remedies of the insured against a third party. Put another way, you can't be paid twice for the same injury or loss.
Does Discovery ever decline to cover the costs arising out of a motor accident? Never, say Jeff Katz, Discovery's in-house counsel, and Jonathan Bloomberg, Discovery Health's CEO.
But it certainly wants to recover money it has laid out to cover medical costs arising from a motor accident where the RAF has paid compensation. Katz and Bloomberg say recoveries amount to about R25m a year — other sources say this could run to as much as R100m annually.
Their action is significantly wrapped up in the charges levied by third party attorneys, sometimes disparagingly referred to as "ambulance chasers". In the case of the Grahams, the Bobroffs levied an all-in fee of 40%. But that's not permitted, say the Grahams. The maximum allowed by the Contingency Fees Act (66 of 1997) is 25%.
We've been here before.
In what became a famous case, De la Guerre v Ronald Bobroff & Partners & Others, a full bench of the high court in Pretoria ruled in December that the Contingency Fees Act was exhaustive, that reliance on common law was unlawful, and that a contingency fee that does not comply with the act is invalid. The South African Association of Personal Injury Lawyers challenged the constitutionality of the Contingency Fees Act, but it lost that argument and the law society was given a bollocking for failing to put in place rules to address the risks of overcharging by its members.
I understand the validity of the Contingency Fees Act will now go to the Constitutional Court.

Continues at source.