Zuma's Nkandla embarrasment
---
President Zuma's Nkandla residence has cost the taxpayer R215 million, with R31 million of work still in progress. Last year, Zuma told parliament his family paid for the buildings, but this is contradicted by Public Protector Thuli Madonsela, who says the President must be called to account for this spending.

President Jacob Zuma has derived "substantial" personal benefit from works that exceeded security needs at his Nkandla homestead and must repay the state, public protector Thuli Madonsela has provisionally found, according to the Mail & Guardian.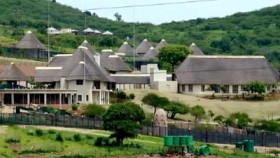 Cabinet members have justified the tax millions splurged on Nkandla (left), saying it was essential in providing Zuma with appropriate security.

But a swimming pool, visitors' centre, amphitheatre, cattle kraal, marquee area, extensive paving and new houses for relocated relatives were all improperly included in the security upgrade at "enormous cost" to the taxpayer, Madonsela found.

AmaBhungane calculates that cost at nearly R20-million.

And, what may be Zuma's greatest embarrassment since taking office, Madonsela's provisional report recommends that Parliament must call him to account for violating the executive ethics code on two counts: failing to protect state resources, and misleading Parliament for suggesting he and his family had paid for all structures unrelated to security.
Zuma told Parliament last November: "All the buildings and every room we use in that residence was built by ourselves as family and not by government."
Madonsela's report is provisional as she has yet to give the interested and affected parties, including Zuma, a chance to comment, which may affect her findings. Its working title is Opulence on a Grand Scale – apparently from a complaint made by a member of the public. Her findings include that the upgrade constitutes exactly that.
The release of the report has been delayed by the security cluster and public works ministers' attempt earlier this month to interdict her from releasing it pending the resolution of their "security" concerns. This has raised fears that Madonsela may be prevented from reporting her full findings.
AmaBhungane has learnt key features of the report from sources with direct access to it but who cannot be named due to sensitivity over leaks. Her findings are corroborated by over 12 000 pages of evidence amaBhungane obtained through access-to-information litigation from the department of public works, which implemented the upgrade.
Key allegations in the report include:
Costs escalated from an initial R27-million to R215-million, with a further R31-million in works outstanding;
There was "uncontrolled creep" of the project's scope after Zuma's private architect, at Zuma's behest, assumed a second hat as the public works department's "principal agent". This meant he was conflicted, serving two masters with divergent needs;
Another four firms that Zuma had privately engaged for his own work were taken on by the department without following tender procedures.
AmaBhungane estimates that the Zuma appointees were paid more than R90-million by the state;
There were unsuccessful attempts by the department to apportion non-security costs to Zuma. Madonsela could not determine whether a document apportioning the costs reached Zuma;
The Nkandla upgrade was "acutely" more expensive than public works expenditure at previous presidents' private homes, by far the most expensive of which was Nelson Mandela's at R32-million (see graphic); and
Even genuine security measures, such as 20 houses for police protectors, a clinic and two helipads were excessive and could have been placed at the nearby town to benefit the broader community.