The year of living dangerously
---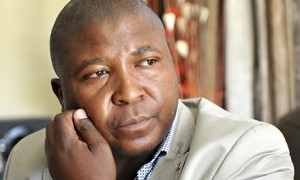 2013 will go down as the year of living dangerously. Our beloved Madiba passed away, the sign interpreter (left) at his funeral turns out to be a fake with an interesting background, and President Zuma was grateful for the opportunity to change the subject from Nkandla-gate.
What are we to make of 2013? Our beloved Nelson Mandela passed away and his funeral was attended by a fake sign language interpreter, who managed to get within metres of dozens of world leaders. The sign language interpreter, one Thamsanqa Jantjie, is a former patient of Sterkfontein Psychiatric Hospital, and claimed he had a schizophrenic attack while interpreting the speeches of world leaders. He saw angels and then panicked when he realised he was surrounded by armed police. Jantjie, it turns out, also has an impressive criminal charge sheet to his name.
Mandela's message of reconciliation was subsumed by the titillating story of Jantjie and his nonsensical hand movements.
That was the second embarrassment for South Africa as it illuminated the world stage. The first was the booing of President Zuma by disaffected members of the ANC in the FNB stadium in Johannesburg.
The timing of Mandela's death was convenient for President Zuma, coming as it did just as Public Protector Thuli Madonsela's provisional report into Nkandla-gate, as it is becoming known, recommended that Parliament call Zuma to account for violating the executive ethics code on two counts: failing to protect state resources, and misleading Parliament for suggesting he and his family had paid for all structures unrelated to security. The taxpayer doled out R215 million for Zuma's private palace, with a further R35 million of work still in progress.
Zuma told Parliament in November 2012: "All the buildings and every room we use in that residence was built by ourselves as family and not by government."
That turns out to have been a wild stretch of the truth, and Zuma will be more than delighted at the opportunity to change the subject as Mandela was laid to rest and we head into the Christmas season. Let's not forget the e-tolls debacle, without doubt the most unpopular measure introduced by the ANC in 20 years. The e-tolls on Gauteng's highways came into effect in early December despite almost universal opposition, and the Democratic Alliance has promised to make this a hot election topic in 2014. Apart from this, mass civil disobedience is virtually certain to bankrupt this monument to ANC folly within the next few years. The Opposition to Urban Tolling Alliance reckons no more than 15% of freeway users have purchased the e-tags. That is civil disobedience on a massive scale.
There is clearly panic in the ANC as we head into an election year in 2014. Julius Malema's Economic Freedom Fighters is peeling off young radicals from the ANC, and you now see their trademark red berets wherever there is a conflict worth stoking. Mamphela Ramphele (the late Steve Biko's former partner) formed her own political movement, Agang SA, to highlight corruption and stave off the "Zanufication" of South Africa she believes is looming. The ANC's trade union alliance partners are pulling away from the mothership, though the political analysts are still predicting a resounding ANC victory in 2014.
As our neighbours in Africa shrug off the financial crisis afflicting the world, South Africa is incapable of growing faster than 3%. That puts us squarely in the league of losers, thanks almost entirely to the regulatory cargo imposed on the private sector by this government.
For proof of this, look no further than the draft Mineral and Petroleum Resources Development Amendment Bill of 2013, which vests the minister with sweeping and arbitrary powers. This week the rand touched R10,50 to the US dollar, its lowest level in five years, as investors head for the hills. The mining industry is at "breaking point" according to Gold Fields CEO Nick Holland, as governments "are seeing mining as a means of putting more into their central coffers."
The Mineral and Petroleum Resources Development Amendment Bill of 2013 "adds to regulatory uncertainty by giving the minister of mineral resources a significant number of new powers framed in such broad terms as to encourage their arbitrary and unequal application," says the SA Institute for Race Relations. Reckless and arbitrary actions by government ministers have done as much damage to the mining industry as anything else, according to the Institute's John Kane-Berman.
In what must rank as the most outrageous piece of delusion yet tossed before the people of South Africa, the government published its National Development Plan (NDP) earlier in the year. It spoke loftily of achieving growth of 5,4% a year, and creating 11 million jobs by 2030, but is in reality a recipe for state intervention on a scale not previously imagined. Business tried to put a brave face on this monstrosity, but no-one takes these government plans seriously any more. They keep government apparatchiks gainfully employed, but they are no more relevant than the Soviet-era five-year plans which brought famine to a once thriving farming sector. The NDP will quickly disappear to the dustbin of history where it belongs.
Government attempted to ram through amendments to the apartheid-era National Key Points Act, declaring "key points" to be a national secret. That, of course, would include the Nkandla estate. The ANC, despite its avowed support for the Constitution, is not above sinking to apartheid-era deviousness to conceal the emperor's nakedness. Congress of the People leader Mosiuoa Lekota put it rather well by describing the effort by government to push through the National Key Points Act as reminiscent of George Orwell's
Animal Farm
, where the revolutionaries become indistinguishable from the past oppressors. Police minister Nathi Mthethwa promised that changes would be made to the apartheid-era National Key Points Act to provide for parliamentary oversight — but this oversight would still be in secret, behind the closed doors of the intelligence committee.
If government is serious about generating jobs, then it needs to get out of the way and allow the private sector to do what it does best. Instead we got the Employment Equity Amendment Bill, virtually dictated to government by the trade unions, placing an even greater burden on the business sector. Government disregarded the objections of business by removing the right of companies to appeal against the compliance orders issued by the Department of Labour. This is probably in violation of the principles of administrative justice enshrined in the Constitution, and so will probably end up being argued in the Constitutional Court.
While the Public Protector's office deserves the highest accolade for standing up to official corruption over Nkandla-gate, the National Prosecuting Authority's (NPA) reputation lies in tatters following repeated failures to do its job of prosecuting corrupt officials. Its persecution of NPA prosecutor Glynnis Breytenbach points to serious abuse of power and political interference. Breytenbach was suspended and subjected to a disciplinary hearing on 15 charges, including that she had not acted impartially when investigating a mining rights dispute involving Kumba Iron Ore and Kumba's Sishen mine in the Northern Cape. She was cleared of all disciplinary charges brought against her by her employer, the NPA, which is challenging the ruling.
There was at least one major victory for common sense during 2013 when the Licensing of Business Bill was shot down for attempting to re-introduce apartheid-era licensing of all businesses, including hawkers. It was a madness that even the government could not support.
Another victory was trade union Solidarity's case challenging the government over its affirmative action laws in the Western Cape. Several Correctional Services employees of the wrong colour were passed over for promotion so that black employees could fill the quotas. Solidarity pointed out that coloureds make up nearly half the population of the Western Cape, but only got 8% of the job quotas because race-based quotas are being applied based on national figures. The Department of Correctional Services lost this case, paving the way for other, similar challenges around the country.
Otherwise, it was a busy year for the drafters of laws, who felt it was time to "toughen up" the Expropriation Bill (I love this "toughening up" that politicians feel enjoined to exercise at our expense). The new iteration, despite some improvements on the old, still grants sweeping expropriation rights to all levels of government. It allows government to expropriate and take possession all manner of assets before any compensation has been paid.
Given what we experienced in 2013 from the architects of our law, don't expect much respite in 2014. Our economy will bumble along for another year while we figure out what's wrong with the machine, while China, India, Ghana and Nigeria sail past us.
Our leaders just don't get it.