New black empowerment requirements sow confusion in mining sector
---
We are seeing frantic movement in the mining industry, with threats of supplier contracts being cancelled not being uncommon. We are being inundated with requests for assistance and advice regarding Ownership and B-BBEE from companies doing business in the Mining Sector. From a B-BBEE (Broad-Based Black Economic Empowerment) verification and advisory perspective we need to understand the reason for the current situation and what is driving this process.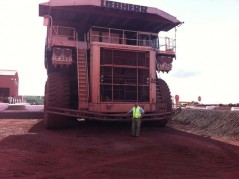 The Mining Charter aims to achieve a minimum of 26% Black Ownership for the industry by 2014 to achieve meaningful economic participation by Historically Disadvantaged South Africans.
The South African Economy has been built on the Mining Industry. The Broad Based Socio Economic Empowerment Charter for the South African Mining and Minerals Industry or Mining Charter was amended in September 2010. The purpose of the charter is to give effect to the Mineral and Petroleum Resources Development Act, No. 28 of 2002 (MPRDA).
In terms of the definitions a BEE Entity is an entity where 25% plus 1 vote of share capital are directly owned by Historically Disadvantaged Individuals based on the flow through principle.
The Mining Charter is not a B-BBEE Sector Charter in terms of the
Broad Based Black Economic Empowerment Act
. This caused some confusion in the industry as a B-BBEE verification certificate is required from companies doing business with the Mines.
Elements of the Mining Charter
Together with the
Broad Based Black Economic Empowerment Act
, the Mining Charter addresses the following elements:
Ownership
Procurement and Enterprise Development
Beneficiation
Employment Equity
Human Resource Development
Mine community development
Housing and Living Conditions
Sustainable development and growth in the Mining Industry
For B-BBEE verification purposes we focus on the Generic Scorecard as the turnover of almost all mining companies or companies operating in the sector exceed R50 million.
The B-BBEE Generic Scorecard

Pillar
Weight
Ownership
25
Management Control
15
Skills Development
20
Enterprise and Supplier Development
40
Socio-Economic Development
5
Total
105
For more clarity on the Amended B-BBEE Codes of Good Practice you may refer to my previous article
here
.
Monitoring and evaluation
Every mining company must report its compliance with the Mining Charter Annually. Non-compliance with the Mining Charter places a Mining Company in breach of the MPRDA.
Making it work
The challenge is to find the right company or group or individual as a partner and future shareholder. There are many ways to structure the shareholding to ensure that the rights of all shareholders are protected.
You need to go look around in your industry and identify a business or individual who can add value to your organisation and unlock synergy. Once you have found potential partners you need to structure the transaction right. Every transaction is unique.
Other than the shareholding structure there are certain key aspects that you need to plan for in your transaction. Financing a sale of shares transaction is not always easy and therefore other avenues have to be explored. The current legislative framework does however leave plenty of options.
A very important element in unlocking the synergy is the concept of change management. Bringing a new partner on board is a new experience for both your organisation and the company or individual joining you. Communication plays a vital role. Strategic and Business plans must be communicated. Income and expenditure budgets must also be actively driven.
Although it is obvious that you also have to manage your B-BBEE scorecard and forecast what your organisations rating will be, we often find that this exercise is left until year-end...Ownership and Management Control points have been secured, but Procurement, Supplier Development and Enterprise Development as well as Skills Development have been neglected. This results in a poor B-BBEE rating.
Conclusion
Don't leave the B-BBEE requirements as stipulated in the Mining Charter for the day before the deadline. Plan, Strategise and Action. This will ensure the future sustainability of your business in the mining industry.
Jako Liebenberg is the CEO of LDSW Incorporated Chartered Accountants and Auditors and is registered as a Public Auditor who may conduct B-BBEE verifications. Jako is involved in the structuring of B-BBEE transactions, B-BBEE verifications and advises clients on B-BBEE policies and structures. Jako can be contacted at e-mail: [email protected]