Hazardous Substances Act, 1973 (Act No. 15 of 1973)
Regulations Governing the Conveyance of Hazardous Substances by Road Tanker
Annexures
Annexure 5 : Cards and Certificates
Part I : Hazchem Scale Card
Regulation 9, 10, 11 and 12
Hazchem Scale Card for Hazardous Chemicals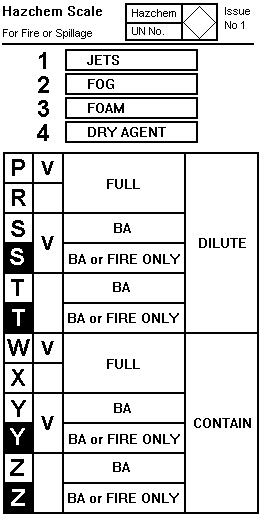 Notes for Guidance
FOG
In the absence of fog equipment a fine spray may be used.
DRY AGENT
Water must not be allowed to come into contact with the substance at risk.
V
Can be violently or even explosively reactive.
FULL
Full body protective clothing with BA.
BA
Breathing apparatus plus protective gloves.
DILUTE
May be washed to drain with large quantities of water.
CONTAIN
Prevent, by any means available, spillage from entering drains or water course.
---