Electricity Regulation Act, 2006 (Act No. 4 of 2006)
Notices
Integrated Resource Plan 2019
1. Introduction
South Africa's National Development Plan (NDP) 2030 offers a long-term plan for the country. It defines a desired destination where inequality and unemployment are reduced and poverty is eliminated so that all South Africans can attain a decent standard of living. Electricity is one of the core elements of a decent standard of living.
The NDP envisages that, by 2030, South Africa will have an energy sector that provides reliable and efficient energy service at competitive rates; that is socially equitable through expanded access to energy at affordable tariffs; and that is environmentally sustainable through reduced emissions and pollution. In formulating its vision for the energy sector, the NDP took as a point of departure the Integrated Resource Plan (IRP) 2010–2030 promulgated in March 2011.
South Africa is a signatory to the Paris Agreement on Climate Change and has ratified the agreement. In line with INDCs (submitted to the UNFCCC in November 2016), South Africa's emissions are expected to peak, plateau and from year 2025 decline. The energy sector contributes close to 80% towards the country's total greenhouse gas emissions of which 50% are from electricity generation and liquid fuel production alone. There is action to reduce emissions with investment already in renewable energy, energy efficiency and public transport.
The IRP is an electricity infrastructure development plan based on least-cost electricity supply and demand balance, taking into account security of supply and the environment (minimize negative emissions and water usage).
At the time of promulgation, it was envisaged that the IRP would be a "living plan" to be revised regularly.
The promulgated IRP 2010–2030 identified the preferred generation technology required to meet expected demand growth up to 2030. It incorporated government objectives such as affordable electricity, reduced greenhouse gas (GHG) emissions, reduced water consumption, diversified electricity generation sources, localisation and regional development.
Following the promulgation of the IRP 2010–2030, implementation followed in line with Ministerial Determinations issued under Section 34 of the Electricity Regulation (Act No. 4) of 2006. The Ministerial Determinations give effect to planned infrastructure by facilitating the procurement of the required electricity capacity.
Since the promulgated IRP 2010–2030, the following capacity developments have taken place:
| | |
| --- | --- |
| • | A total 6 422 MW under the Renewable Energy Independent Power Producers Programme (REIPPP) has been procured, with 3 876 MW operational and made available to the grid. |
| | |
| --- | --- |
| • | In addition IPPs have commissioned 1 005 MW from two Open Cycle Gas Turbine (OCGT) peaking plants. |
| | |
| --- | --- |
| • | Under the Eskom build programme, the following capacity has been commissioned: 1 332 MW of Ingula pumped storage, 1 588 MW of Medupi, 800 MW of Kusile and 100 MW of Sere Wind Farm. |
| | |
| --- | --- |
| • | In total, 18 000MW of new generation capacity has been committed to. |
Besides capacity additions, a number of assumptions have changed since the promulgation of IRP 2010–2030. Key assumptions that changed include the electricity demand projection, Eskom's existing plant performance, as well as new technology costs.
These changes necessitated the review and update of the IRP which resulted in the draft IRP 2018 as per the Table 1 below: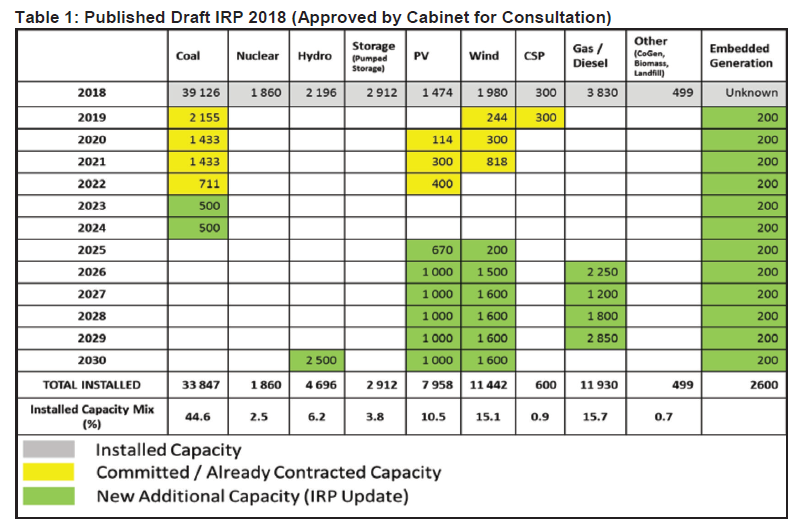 ---