Immigration Act, 2002 (Act No. 13 of 2002)
Regulations
Immigration Regulations, 2014
Annexures
Annexure A: Forms
Form 3 (DHA-26)
(DHA-26) Form 3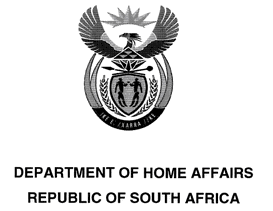 APPLICATION FOR EXEMPTION TO ENTER OR DEPART AT PLACE OTHER THAN PORT OF ENTRY
[Section 7(1)(g) read with section 9(3)(b); Regulation 6(1)]
See reverse side for conditions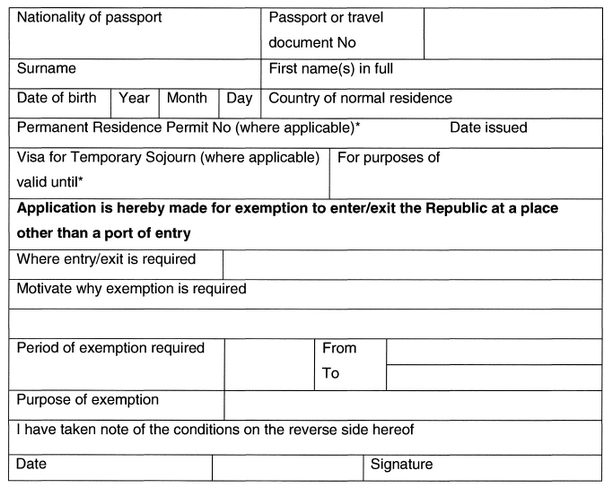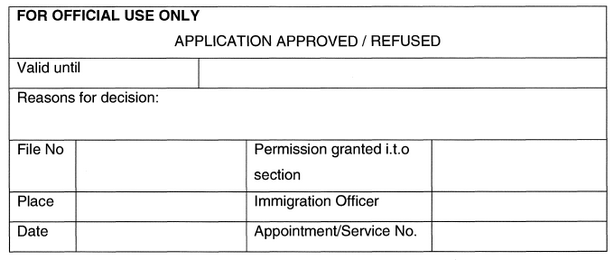 CONDITIONS
Exemption to enter/depart the Republic at a place other than a port of entry may only be issued to South African citizens, foreigners exempt in terms of section 31 or foreigners in possession of a relevant and valid visa for temporary or permanent sojourn commensurate with the purpose of visit indicated on this application.
This exemption is a privilege and not a right and can therefore be withdrawn at any time.
The exemption is specifically for the purpose applied for and does not exempt the holder from other entry requirements of the Republic, e.g. valid passport, visa, sufficient funds, etc. If the exemption is granted, it shall be produced on demand by an immigration officer, police officer, Customs officer or a member of the South African National Defence Force in the execution of border control duties, together with your passport and/or any other document relevant to entry or residence in respect of the Republic.
Only the holder of the exemption is authorised as indicated thereon and all persons accompanying him or her shall comply with the normal entry requirements in their own right.
The exemption does not exempt the holder from any requirement of another country involved when crossing the common border of the Republic with such country.
Proof of right to return to country of nationality and / or residence may be required from an applicant who is a foreigner.
---